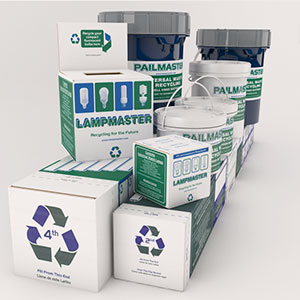 [affiliate_display_name default="Lampmaster"] is an easy and innovative way to recycle. Our recycling kits allow users to manage office, facility or household recycling all online. Customers can order boxes or pails, fill them as they need, and ship them back for free. It's that simple.
Our boxes are used in a variety of locations from home and retail operations to large scale factories and facilities.
The new online web portal allows customers to track their recycling progress and metrics, generate recycling certificates, and manage multiple shipping and recycling locations. Its all streamlined and easy for anyone to use anywhere at any time.
Recycle Bulbs, Electronics, Batteries, & More
User Dashboard Includes Metrics Tracking
Generate Recycling Certificates
Automatically replace boxes once shipped
Manage Multiple Locations with One Account
A few clicks and recycling management is streamlined and sustainable. Our mission at Lampmaster is to provide you with easy-to-use products and tracking features. Our services are 100% compliant with all federal and local EPA standards. We provide each user with a unique account dashboard and Certificate of Recycling for every shipment sent back to our facilities.
With our dedicated support staff and value added services, you can make a difference in our environment's future!