We Recycle All Fluorescent, Incandescent, LED, or Other Lights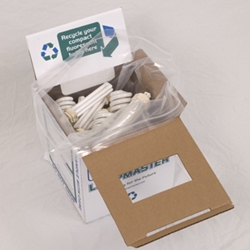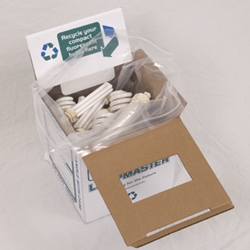 Did you know that businesses are required by law to recycle their spent fluorescent bulbs? Thats because each bulb contains trace amounts of mercury which pollutes the environment if landfilled.
On top of accepting these bulbs, Lampmaster recycles them responsibly and sustainably. Make the right choice and recycle your fluorescent bulbs.
The Following is a List of Bulbs We Accept
If you have questions about a specific bulb please contact us
Straight Fluorescent lamps and bulbs (all lengths and widths)
Compact Fluorescent Lamps and Bulbs (CFL Lamps)
LED Lights (All Kinds)
HID Lamps (High Pressure Sodium, Bi-Metal, High Intensity, Metal Halide, Biax)
Lighting Fixtures and Systems
UV Lamps
Neon Lights
Incandescent Lamps
Flood Lamps
Shattershield or Coated Lamps (all sizes)
Halogen
WE RECYCLE ALL TYPES OF LAMPS!
Click here to learn more about Lampmaster Recycling Services, Inc Fluorescent Recycling Kits.